About College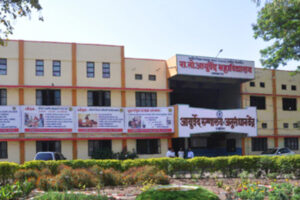 College – Radhakisan Toshniwal Ayurved Mahavidyalaya, Akola – Rashtriya Vaidyak Prasarak Mandal's dream came true in 1955 with the establishment of the college, which was recognized in 1956 by Vidarbha Ayurved Board for running a 4 years BAMS course after matriculation. Vidarbha merged in Maharashtra in 1960 and with the formation of Maharashtra Ayurvedic Board and faculty, MFAM Course replaced previous BAMS Course.
The college got affiliated to Nagpur University and then Amravati Univesity with 90% grant in aid from the government of Maharashtra. The collective approach of the executive body, the staff and the students and the aid from the central & Maharashtra government, Ministry Health and family Welfare developed the institute continuously as per CCIM norms along with popularisation.
The college started conducting P.G.Course in 1990-91. In 1998 Maharashtra University of Health Sciences started operating with the affiliation of BAMS Course but the P.G.Courses was under Sant Gadgebaba Amravati University,Amravati till 2006 and there after it was affiliated to MUHS. The admission capacity for BAMS is 50 students with P.G. in 04 subjects.
It is well known institute of Ayurved in central India for patients as well as for students. Pure Ayurvedic treatment and panchkarm are the strong backbone of the institute with Pathological investigations.
Rashtrya Vaidyak Prasarak Mandal, Akola (F-122/Akola).
List of Office Bearer
| | |
| --- | --- |
| Name | Post |
| Dr. Vinayak Deshmukh | President |
| Dr.Sau. S. H. Mahashabde | Vice-President |
| Shri. Arun G. Damle | Secretary |
| Dr. Ashutosh S. Kulkarni | Joint-Secretary |
| Dr.Sau. Vaidehi Paradkar | Treasurer |
| Dr. Sandhya Joshi | Executive Member |
| Dr. Kishor M. Pimparkar | Executive Member |
| Dr. Kalicharan R. Tripathi | Executive Member |
| Adv. Mohan Moyal | Executive Member |
| Adv. Girish Deshpande | Executive Member |
| Dr. Deepak Kelkar | Executive Member |